More info
3mm LED Kit: High-quality 3mm assorted LEDs in a variety of colors to choose from, just right for your Arduino and electronic projects
Complete LED Assortment Kit: It includes Blue, Yellow, Red, Green Diffused Lens Colored LEDs, and White Clear Lens LEDs, 200 pcs each LED, a total of 1000 LEDs
Resistors and proto PCB Included: 100 pcs 1/4W 220 Ω resistors and a 2x8cm prototyping printed circuit board included
Durable Plastic Storage Box Included: It helps you to always keep the LEDs organized and to transport the LED kit anywhere - keep your LED lights secured and free from damaging and breaking
Satisfaction Guarantee: Our LED assortment kit is backed by our manufacturer 30-day money back guarantee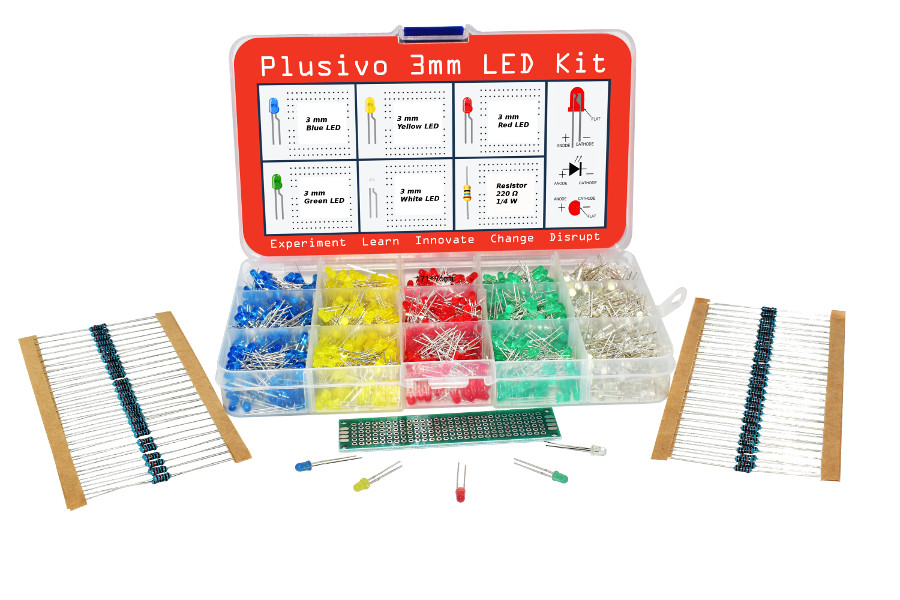 A variety of LED colors suited to all your project needs
This LED Assortment Kit from Plusivo has a wide scope of application like school science experiments and DIY light projects, indoor and outdoor light decorations, and electronic or electrical use.
What you want, need and desire

What You Want - A colorful set of premium LEDs which are energy saving, durable, small sized and bright
What You Need - A pack of 3mm LEDs with a diffused and clear lens which can be used for all your electronic lighting projects, DIY toys and light decoration assembly, science experiment and many others.
What You Desire - A premium LED kit that is easy to store and use.
What You Get - Everything you want, need and desire with the Plusivo 3mm LED Assortment Kit. PLUS a pack of Resistors and a Printed Circuit Board as BONUS items!
The Plusivo LED Assortment Kit Includes:

• 200pcs 3mm Blue LEDs with Diffused Lens
• 200pcs 3mm Yellow LEDs with Diffused Lens
• 200pcs 3mm Red LEDs with Diffused Lens
• 200pcs 3mm Green LEDs with Diffused Lens
• 200pcs 3mm White LEDs with Clear Lens
• 100 pcs 220 Ω Resistors
• 1 pc 2x8cm Prototyping PCB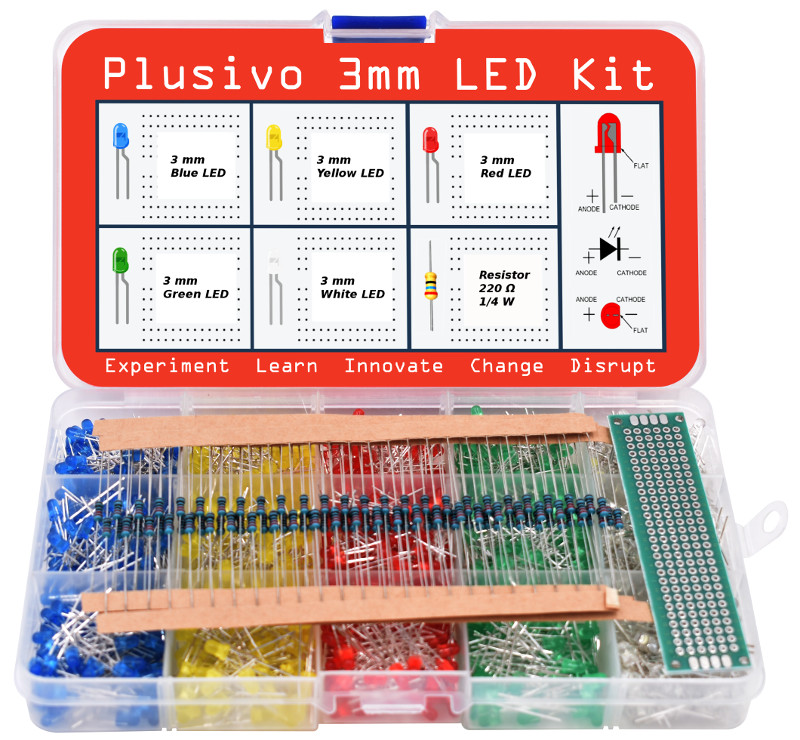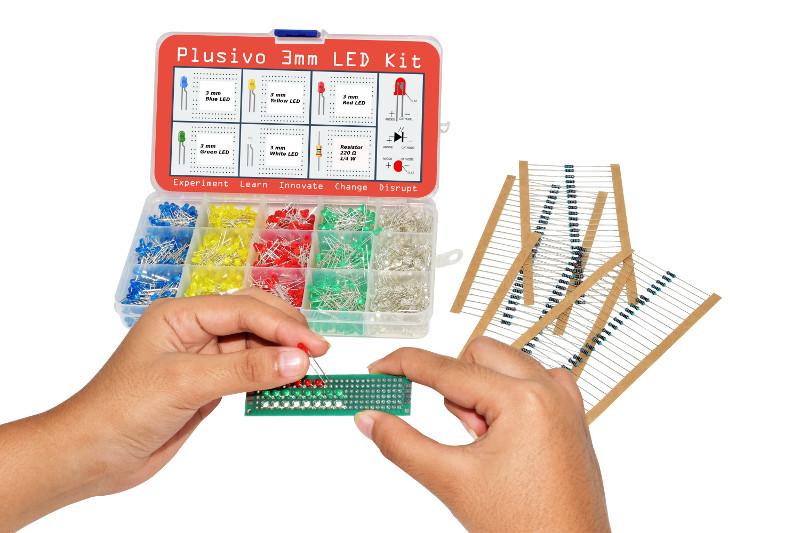 You'll never want to be without the Plusivo 3mm LED Assortment Kit