BJT Transistor Assortment Kit: It includes the most common PNP and NPN transistors: 2N3904, 2N3906, S8050, 2N2907, S8550, 2N2222, BC337, C1815, BC327, A1015.
Premium Assorted Transistors: With our 210 pcs bipolar transistor pack you will never have to worry about not having the right transistor for your circuit.
Bonus Resistor Kit Included: The transistor kit comes with a 250 pcs bonus resistor assortment kit that includes the most commonly used resistor values, always useful for your electronic circuits.
Durable Plastic Storage Box Included: It helps you to always keep the transistors organized and to transport the transistor kit anywhere - forget about the hassle of keeping the transistors in a bag.
Satisfaction Guarantee: Our transistors assortment pack is backed by our manufacturer 30-day money back guarantee.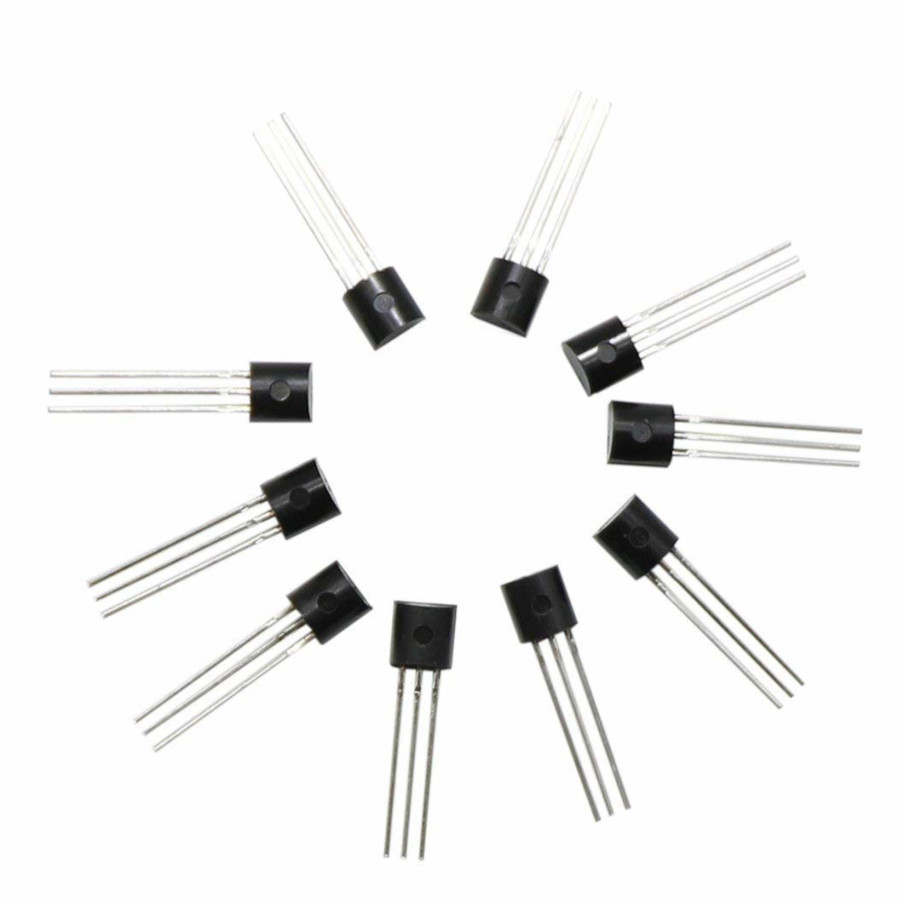 Large assortment of transistors

The Plusivo Transistors Kit includes 10 commonly used transistor types:
21 pieces each type
• 2N3904
• 2N3906
• S8050
• 2N2907
• S8550
• 2N2222
• BC337
• C1815
• BC327
• A1015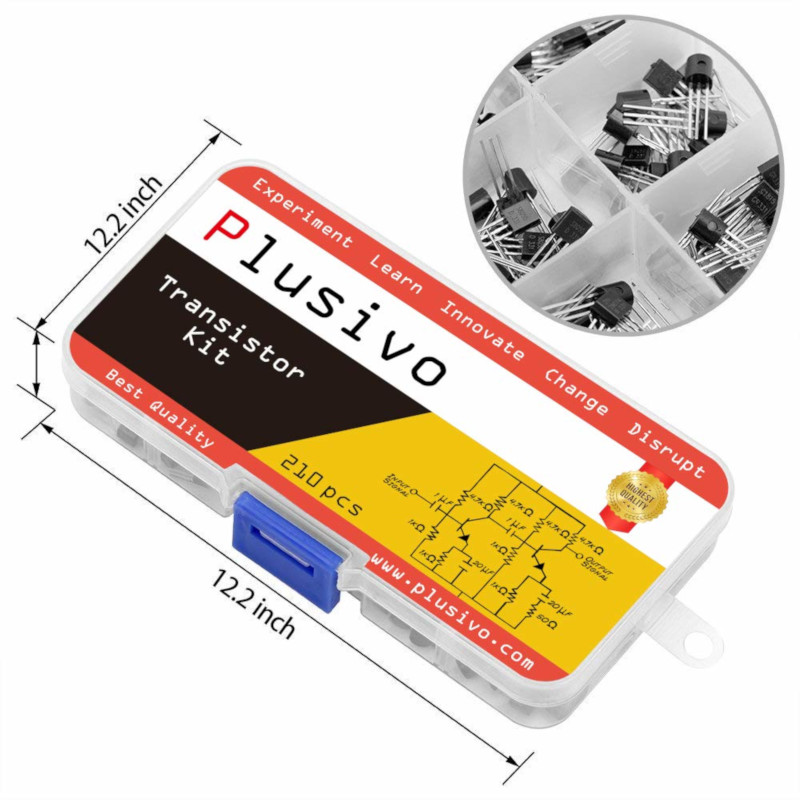 Bonus Resistor Kit Included

The transistor kit comes with free resistors kit with the following resistance values:
• 47 Ω
• 100 Ω
• 220 Ω
• 330 Ω
• 470 Ω
• 680 Ω
• 1 kΩ
• 2.2 kΩ
• 3.3 kΩ
• 4.7 kΩ
• 6.8 kΩ
• 10 kΩ
• 22 kΩ
• 33 kΩ
• 47 kΩ
• 68 kΩ
• 100 kΩ
• 330 kΩ
• 470 kΩ
• 680 kΩ
• 1 MΩ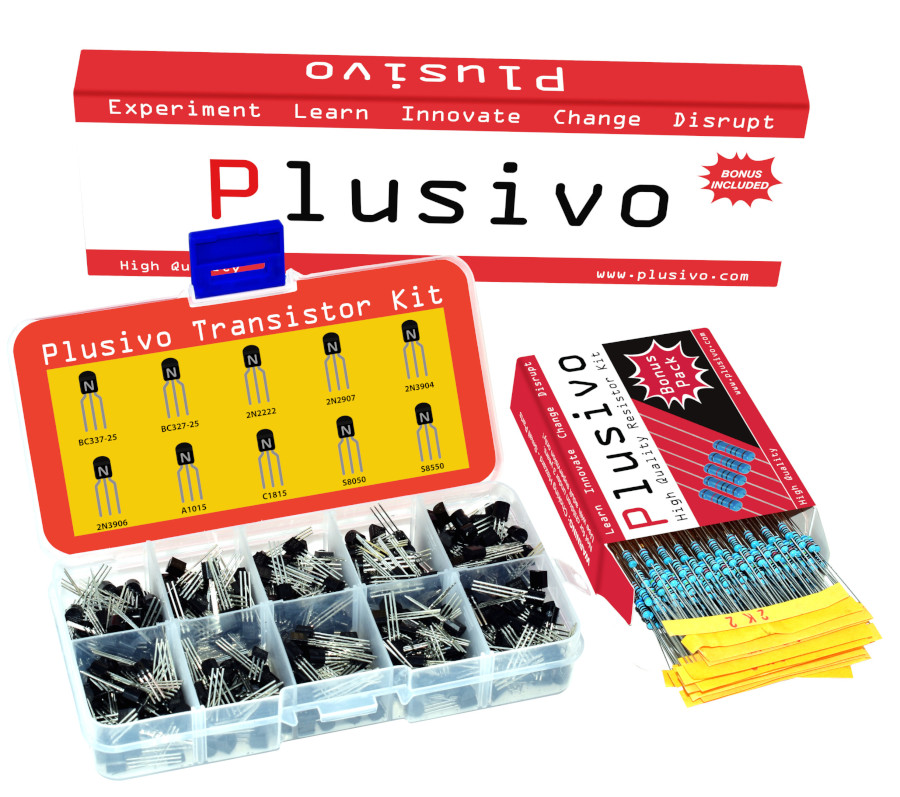 What you want, need, and desire

What You Want
A transistors kit that includes most commonly used transistor types.

What You Need
A complete transistors assortment kit, so that you always have the PNP and NPN transistors you need.

What You Desire
A premium BJT transistor kit that is easy to store and use. It comes with an organizer box that allows you to easily store the transistors. Just open the box and pick up the transistor you need.

What You Get
Everything you want, need and desire with the Plusivo Transistors Assortment Kit plus a 250 bonus resistor assortment kit.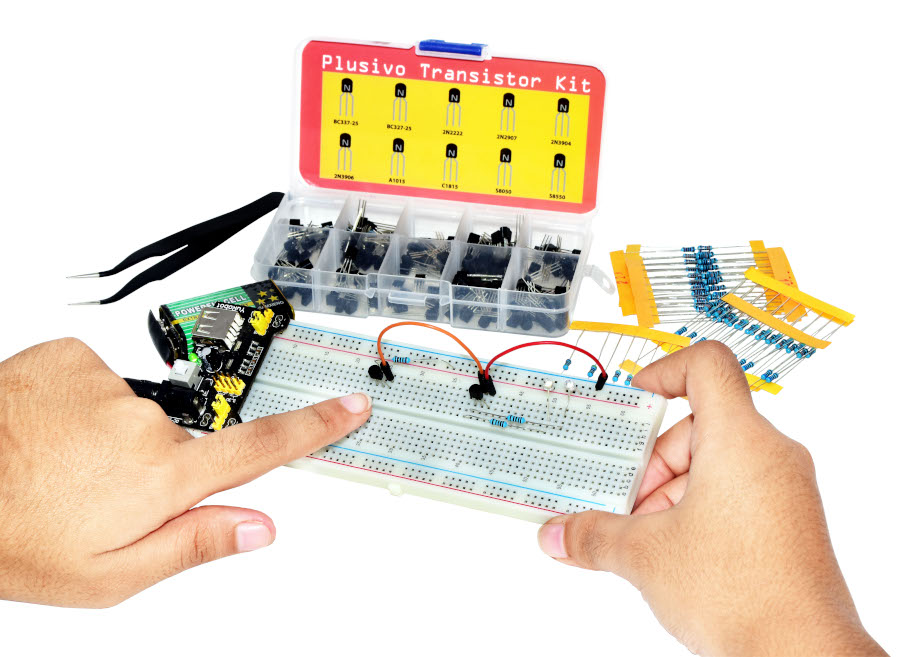 Start Your DIY Projects Now with the BJT Transistor Assortment Kit from PLUSIVO!

Don't delay, buy today.