Technical specifications:
Microcontroller power supply voltage: 3.3 V;

Plate supply voltage (via integrated controller): 7 V - 12 V;
Digital I / O pin: 54 (of which 12 can provide PWM signal);
Input analog pins: 12;
Output Analog Pins (DAC): 2;
The total current that can be supplied by all I / O pins: 130mA;
Pole current 3.3V: 800 mA;
Current pin 5V: 800 mA;
Flash memory: 512 KB;
SRAM memory: 96KB (two 64KB and 32KB blocks respectively);
Operating Frequency: 84 MHz;
Supports the following communication interfaces: 4 x UART, CAN, 2 x I 2 C, SPI and USB OTG.
Dimensions: 101 x 53 mm;
Arduino DUE R3 is one of the most powerful development boards, being one of the top. It works with Atmel, AT91SAM3X8E, with a 32-bit ARM architecture, with the powerful microcontroller.
This development board is useful for your more important projects, which require more processing power, many communication channels with peripherals and plenty of memory. The microcontroller offers you 7 channels that you can communicate, the most common, but also USB OTG and CAN.
Like all more sophisticated peripherals, this microcontroller works at 3.3V but offers a working frequency of 84MHz.
The product can be easily programmed without a separate programmer directly from the Arduino IDE.
This product is pin-to-pine-compatible with the original and of very good quality.
Instructions for use:
The Arduino-compatible development board features two USB ports.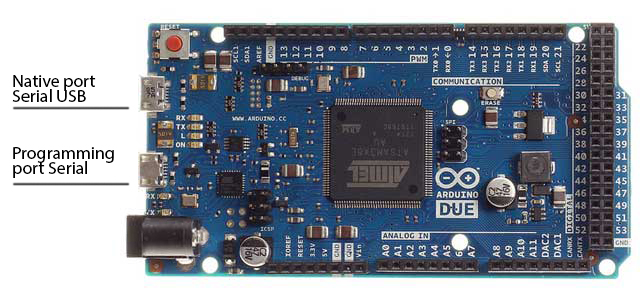 Using the native USB port, the development board is identified as a USB peripheral (acting as a mouse or keyboard). The other USB port is connected directly to the first UART of SAM3X. This port is used to program the development board.
The map of the pines is as follows: