More info
Overview
This high quality 830 point breadboard is made of ABS plastic with phosphorous nickel bronze alloy plated contact springs.
It can be used for fast prototyping of electrical and electronic circuits without any soldering. Some of the 830 contact points of this board are connected horizontally and some of them are connected vertically, for convenient use.
Specifications
Size: 16.5 x 5.4 x 0.85 cm
Number of contact points: 830
Matching jumper wire diameter: 0.8 mm
Applications
Widely used for experimental set-ups in the laboratory, industry, university, schools or model-making
Ideal for prototypes since no soldering is required and the circuit can be modified at any time by changing the solderless connections
The internal connections of the breadboard are made horizontally or vertically, according to the attached picture.
The use of a breadboard is recommended when we want to build a circuit quickly and easily. This is a plastic board with holes and metal contacts inside, which allows the circuit elements to be connected by wires, without the need to glue them.
Use with Arduino
Breadboards can come in many sizes. Their basic "anatomy" can be seen in the image below:
• horizontal sections A and D will usually be used for feeding;
• in the vertical sections B and C we will insert the circuit elements;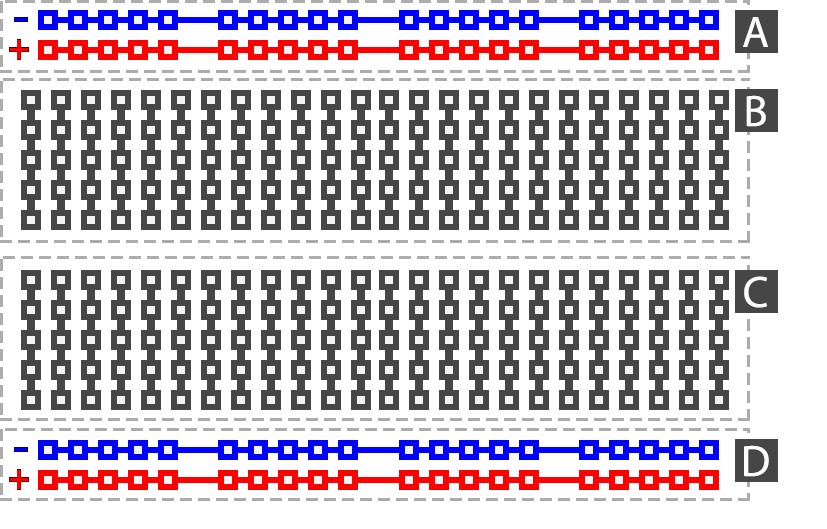 Each vertical line illustrated in black can represent a circuit node. In the middle there is a horizontal channel separating sections B and C to provide more nodes and to make it possible to connect circuit elements that have two pairs of pins.