More info
Overview
The HC-SR501 sensor is based on pyroelectric infrared technology, it features high sensitivity, high reliability, and low-voltage operation. It is widely used in alarms and auto-sensing electrical equipment, especially in battery-operated products.
Specifications:
Operating Voltage Range: 5 V to 20 V

Power Consumption: 65 mA

TTL Output: 3.3 V, 0 V

Lock Time: 0.2 sec

Sensing Range: <120°, within 7 meters

Temperature Range: -15° C to +70°

Dimensions: 32 mm x

24 mm
The HC-SR501 infrared sensor is used to detect human presence. It is often used to automatically turn the light ON/OFF in a room when a person arrives or leaves a room.
The sensor is based on IR technology, provides reliability in your projects and a low operating voltage.
It supports a high supply voltage range (5 - 20 V) and has a low consumption. It has a sensitivity radius of 110 ˚ and detects objects up to a distance of 7m.
The white plastic cover works like a divergent lens that allows the sensor to detect objects over a much wider range. The sensor makes "readings" at adjustable time intervals, between 0.3 sec and 5 min.
Using with Arduino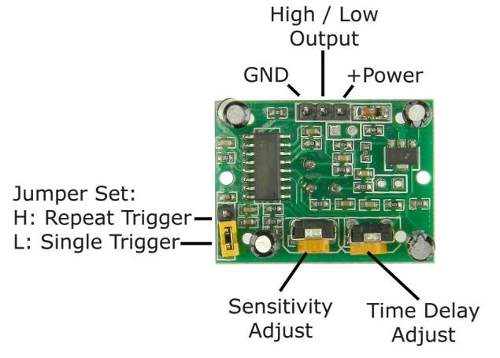 The sensor is very easy to use, requiring a single digital pin. We used pin 8. For more details see the data sheet.
For code 31.0, see the book "Introduction to Arduino"